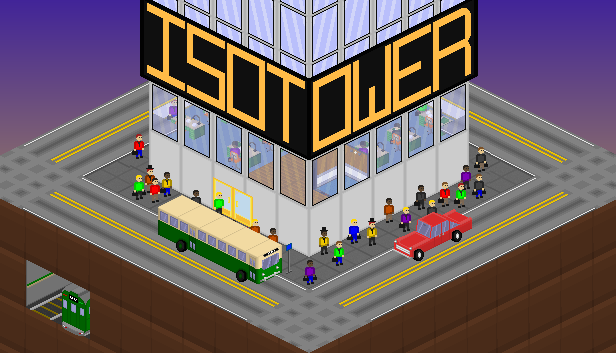 Isotower
Isotower is finally out. If you're interested in tycoon games, especially older, 90s era tycoon games like SimCity 2000, SimTower, and Rollercoaster Tycoon, then check my humble little game out.
It's been over 3 years since I started working on a new engine for Isotower, and probably close to 10 years since I created the very, very first version of the game. The first version was a big mess, code-wise, and I got myself stuck into a corner writing it. The current engine is still a bit messy, but it's possible to add most of the features I want for the game, and I don't really want to write an engine a third time.
So for now, this release is what I'm calling "creative mode". A lot of the features that I want for the game are there, but they don't have much effect on the game, and a lot of the game is balanced towards being very very easy as a result. My plan over the next few months is to polish up the features that are there, and generally make Isotower more interesting and challenging. Plus, the usual bug fixing and making things overall easier to play from a UI perspective (right now the tutorial is basically very minimal)
If you download the game, I hope you enjoy it. I've been working to make sure it's fun, and I can't wait to see what people create with it. Thanks.
Files
Version Beta - 0.2.0.0
Sep 03, 2019