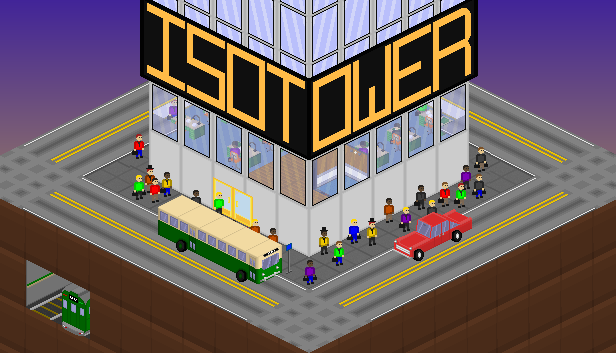 Isotower
A downloadable game for Windows
Isotower is a tower building tycoon style game, inspired by Sim Tower, Sim City 2000, and Transport Tycoon. You choose a plot of land in a bustling city, and can build either a sprawling apartment complex, a high class hotel, a strip mall, or a bustling center of business, or anything else you can think of. It is currently under development, with a release expected sometime in 2019.
Current Features (stuff what's already in the game for sure)
Fully simulated elevators!
Multiple ways to enter the tower, such as subways, buses, cars, and walking.
Four types of social classes to cater your tower to.
Each resident and visitor is simulated, with different demands and schedules.
Build offices to attract workers to the tower, build housing to keep those workers in the tower!
Hotels! Restaurants! Offices! Shops!
Keep Beauty levels up, and Noise levels down to keep everyone happy.
Upgrade/Unlock system based around impressing VIPs.
Loads more rooms, including movie theatres and night clubs.
Upcoming Features (stuff that's still being worked on)
Stairs! Escalators! More transportation options!
Events! Disasters! Things to keep the player from getting bored!
Rent rooms out, or just sell them to a resident for lots of money at once!
A meta-game involving a simulated city, where you can sell your current tower and build a new one with the income!
Development Progress
The focus of development at the moment is creating depth in the gameplay and adding various interesting systems. As a result, the graphics and user interface are mostly placeholders, and not even close to the final product. The ultimate goal of Isotower is that sprawling arcologies can be built, with tens of thousands of citizens living and working entirely within the tower. Isotower will have a period of Early Access, and once it can handle vast numbers of citizens and all the features are complete, it will be released in full. Isotower uses a custom engine written in C++ with the SFML library, and a demo version will be available upon the game entering Early Access.
Purchase
In order to download this game you must purchase it at or above the minimum price of $15 USD. You will get access to the following files:
isotower-windows.zip
16 MB
Download demo
Comments
Log in with itch.io to leave a comment.
Is this currently playable? If i buy here will I get a steam key later?
"It is currently under development, with a release expected sometime in 2019."
HYPE HYPE HYPE!!